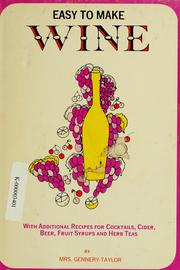 Easy To Make Wine, with additional recipes for cocktails, city, beer, fruit syrups, and herb teas is a must-have for every kitchen:
This book is intended for the ordinary housewife or
perhaps her husband.

I hope it will be helpful to those who wish to make a
few bottles for home consumption or for giving to friends.
Available to borrow from Open Library's Lending Library program!